3 Min Read
Top 6 Must-Have Features for Your Florida Pool Enclosure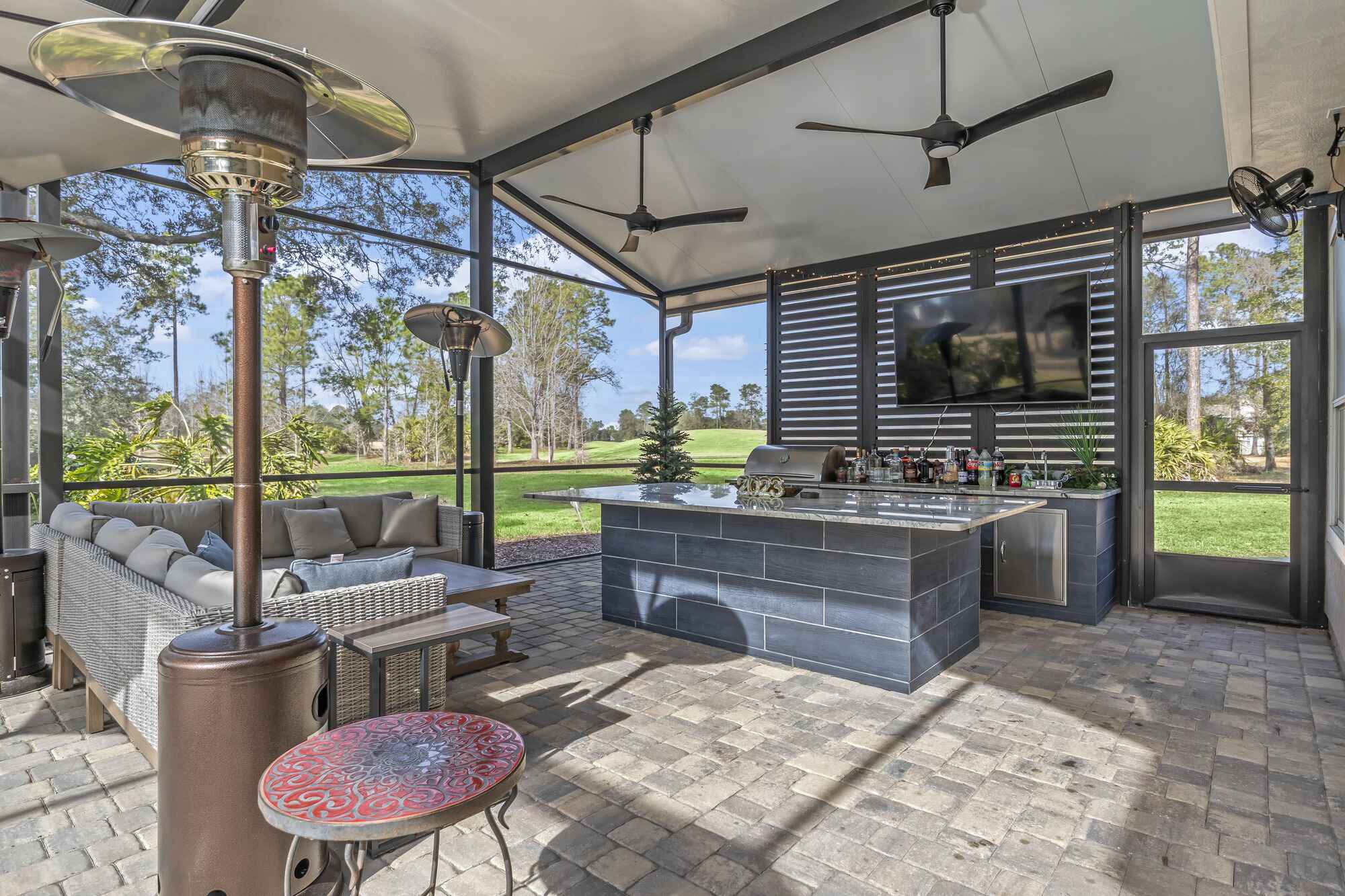 Turning your backyard into an outdoor oasis is more than just a trend; it's a lifestyle. With the right features, your pool enclosure becomes a living space where you can relax, entertain, and enjoy the Florida sunshine. From motorized screens to custom outdoor lighting, you have an incredible amount of possibilities for upgrading your project. So, what should you include in your pool enclosure to create your dream space? Let's dive into the top must-haves!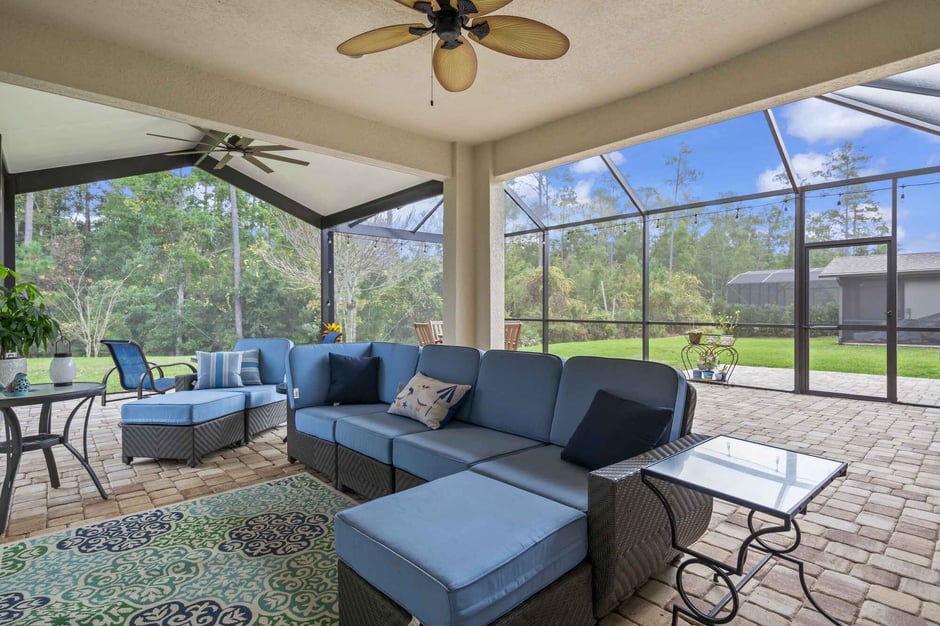 1. Outdoor Kitchens
An outdoor kitchen takes your poolside activities to a whole new level. Imagine flipping burgers and sipping on a chilled cocktail, all while keeping an eye on the kids swimming in the pool. An outdoor kitchen in Jacksonville doesn't just add to your lifestyle; it becomes a significant part of your home, increasing its overall value and appeal.
Include a whole suite of appliances and features, like a range, sink, mini fridge, ice maker, plenty of storage, and even a pizza oven. Outfit your kitchen with every tool, utensil, and outdoor tableware so there won't be any reason to run in and out of the house for every little thing. You could also add a custom bar with seating off of your outdoor kitchen!
2. Tongue and Groove Ceiling
When it comes to pool enclosure design, a tongue and groove ceiling can make all the difference. Not only is it stylish, but it also provides added insulation, helping to maintain a more comfortable temperature inside your pool screen enclosure. This extra insulation is particularly beneficial during those hot Florida summers, allowing you to enjoy your pool enclosure in Jacksonville, FL, in ultimate comfort. Our tip? Keep a majority of your enclosure covering screen so the sunshine can make its way down to the pool and cover a portion with tongue and groove ceiling for much-needed shade.
3. Custom Outdoor Lighting
Don't let the sunset limit your enjoyment of your outdoor space. With custom outdoor lighting, your pool area remains functional even after dark. This feature allows for everything from task lighting around an outdoor kitchen to ambient lighting that sets the mood, letting you savor those long evenings to the fullest.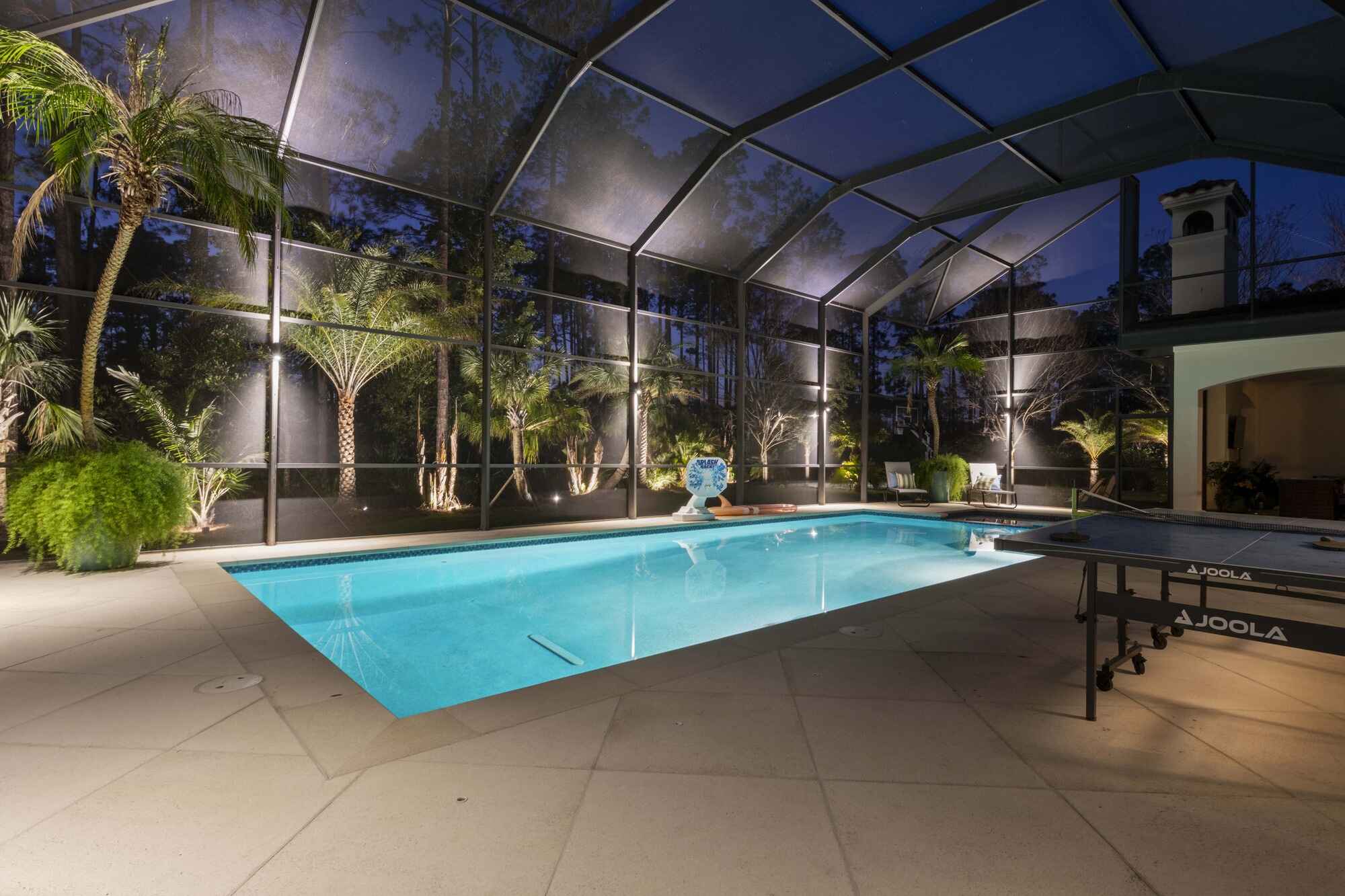 4. Motorized or Wood Pergola
Having a pergola inside your pool enclosure is not only an aesthetic choice but a functional one. A motorized pergola allows you to control the amount of sunlight entering your enclosure. Want to bask in the sunshine? Open it up. Need some shade? Close the louvers. A motorized pergola gives you the opportunity for a hands-free feature that includes louvers that will automatically open or close when rain or wind is detected.
A wood pergola offers a timeless, rustic look that adds a touch of elegance to any pool enclosure, making your space in Jacksonville, FL, uniquely yours.
5. Entertainment Area with TVs
What better way to enjoy your Florida pool enclosure than with an entertainment area complete with TVs and a Bluetooth speaker system? Whether you're hosting the Super Bowl party of the year or settling in for a cozy movie night, a dedicated entertainment area enhances your outdoor living experience. With this feature, you bring the indoors outside, blending comfort and nature seamlessly.
6. Privacy Slat Walls or Screens
In Florida, where the sun shines most of the year, incorporating pool privacy ideas becomes crucial. Slat walls or specialized screens can provide the privacy you're looking for without sacrificing natural light or ventilation. It's the perfect solution for those seeking to unwind in their own secluded paradise, giving you peace of mind as you relax in your pool or lounge area.
Make Your Pool Enclosure Truly Custom
Creating your dream outdoor oasis involves so much more than just basic planning. It's about the additional features that not only enhance your lifestyle but also make your pool enclosure genuinely yours. From outdoor kitchens and pergolas to privacy screens that offer secluded comfort and custom lighting, choose the right features for your Jacksonville home. Are you ready to start planning your dream pool enclosure? Impact Enclosures is here to bring your vision to life, within your budget and always on time. To learn all about how much our pool enclosures cost, download our cost guide!
With the right features, you won't just be building a pool enclosure; you'll be crafting a multi-functional living space that you'll cherish for years to come. So why wait? Your dream Florida pool enclosure is just a consultation away!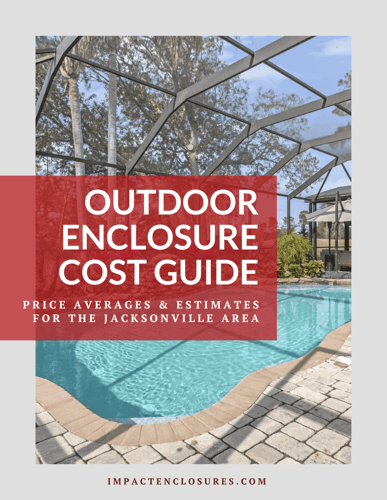 Complete Cost Guide
Get real cost estimates from good to better to best for your outdoor enclosure project in Jacksonville, Florida. Get pricing averages for...
Motorized Pergolas

Motorized Screens

Screen Enclosures

Screen Rooms

Wood Pergolas

Outdoor Kitchens

Tongue & Groove Ceilings

Outdoor Lighting