2 Min Read
How Long Does it Take to Build an Outdoor Enclosure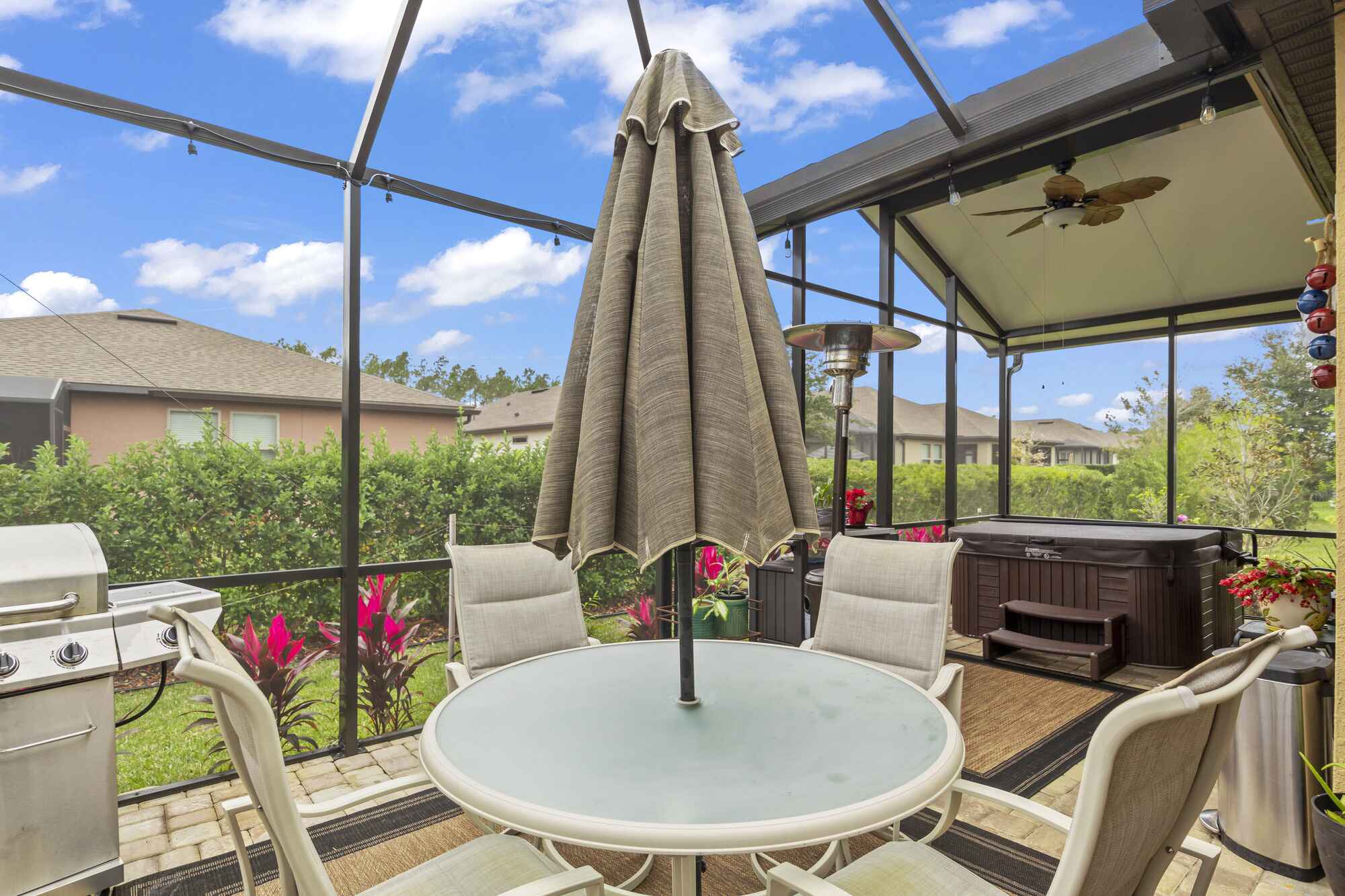 You're excited to enjoy your Jacksonville area backyard in a whole new way with an outdoor enclosure–and you should be! You will have more opportunities to dine alfresco comfortably, sit poolside without worrying about debris or unwelcomed critters, and enjoy a shady spot in the yard while the kids play nearby. At Impact Enclosures, we know how excited you are to build your outdoor enclosure so let's answer one of the most important questions about home improvement: how long it will take to build an outdoor enclosure.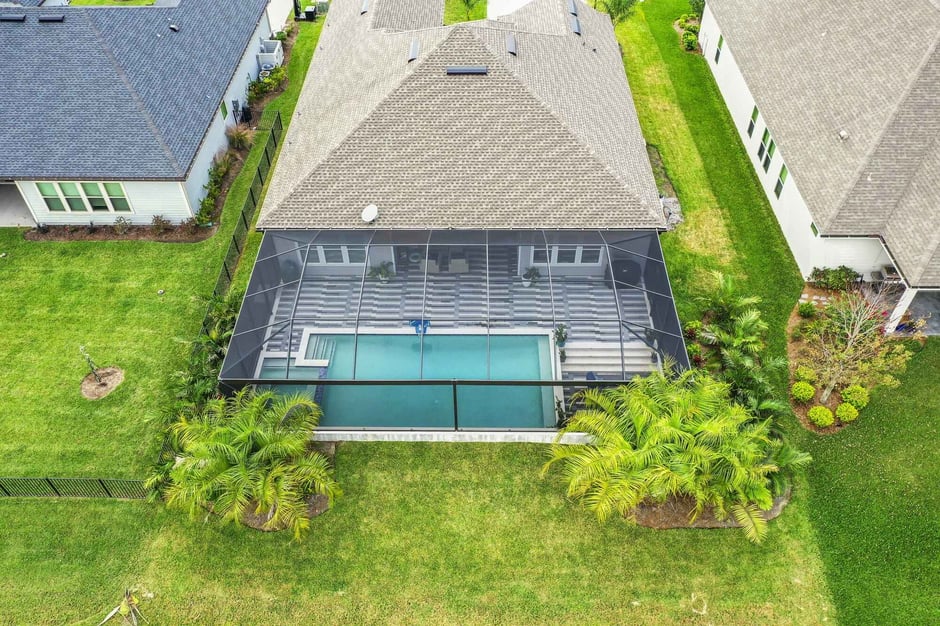 How Long Does It Take to Build a Pool Enclosure?
Your pool will never be more clean and safe than with a pool enclosure! The best part? A 25'x45' pool enclosure will only take 5 days from the start of construction for your project to be complete and ready to enjoy. Keep in mind that this timeframe does not include installing a foundation. What it does include is a complete, high-quality structure that offers protection from debris, filtered sunlight, and keeping the little ones from accessing your pool when no one's looking.
How Long Does It Take to Build a Wood Pergola?
Impact Enclosures can build your all-wood cedar pergola in only 5-7 days. In as little as a week, your beautiful and expertly-crafted pergola will be ready for afternoon lounging. Use your wood pergola to provide shade to your back patio, offer cover for your outdoor kitchen, or provide a cabana-like oasis beside your pool. The construction time of your pergola will include a 12x12 structure with every fine detail checked off to ensure a sturdy and long-lasting backyard feature.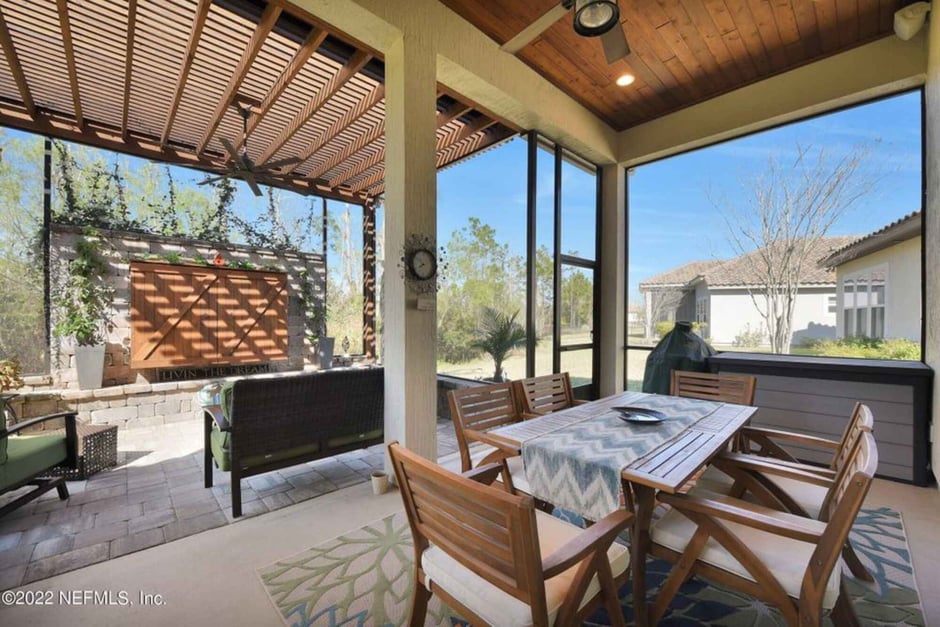 How Long Does It Take to Build a Motorized Pergola?
A freestanding motorized pergola, even with its advanced features and high-quality construction, will also only take from 5-7 days. Impact Enclosures uses only the highest-quality materials and methods to build a motorized pergola that's meant to last. With heavy-gauged posts and dual-walled louvers, your motorized pergola will offer shade and protection from sun and rain. Our pergolas are also outfitted with rain and wind sensors so the louvers will automatically close when needed. All of this, within only a week from the start of construction at your Jacksonville or Ponte Vedra home.
How Long Does It Take to Build a Screen Enclosure?
A screen enclosure timeline is more varied because your options for the design are also more varied. Your screen enclosure could include a shed roof or gable roof, the option of an expanded view wall for uninterrupted sightlines, and different options for creating a seamless connection between your enclosure and your home. Impact Enclosures can build your screen enclosure in 7-20 days, from the time construction begins to the time you will be able to furnish your new space in Ponte Vedra to enjoy.
Each screen enclosure will measure 12'x20' and include an insulated roof for added comfort, stainless fasteners for sturdy construction, a heavy gauge door, gutters with downspouts, and more features that will result in a long-lasting enclosure. Enclose an outdoor kitchen, your family's outdoor living area, or any other area outdoors you'd like to enjoy without pesky mosquitoes or the harsh sunlight.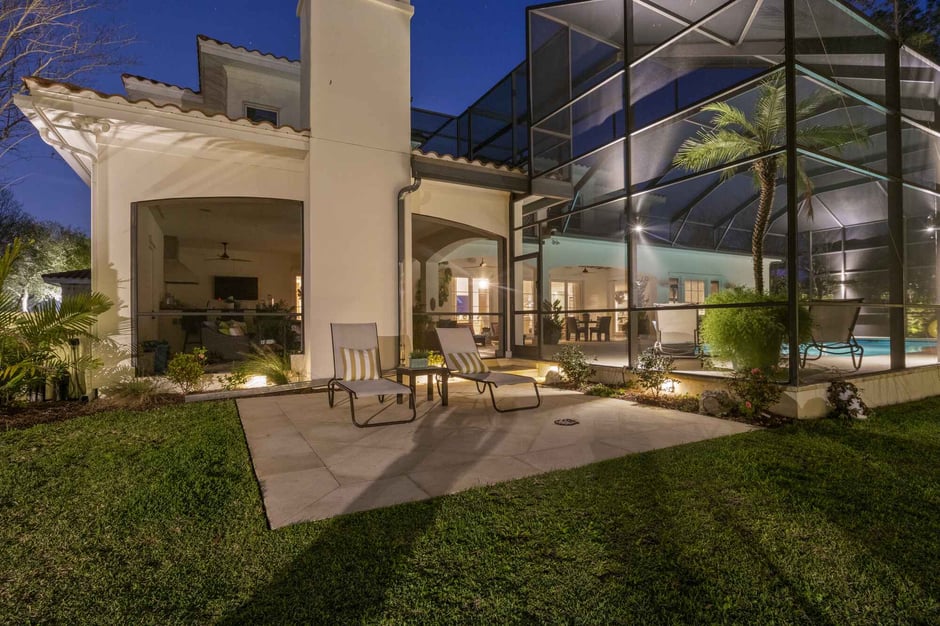 Add Lighting to Your Outdoor Enclosure
Outdoor lighting can be added to your screen enclosure and can take 1-3 days to include, depending on if you choose to add 4, 8, or 12 sconce lighting fixtures.
Impact Enclosures Is Your Jacksonville, Florida, Outdoor Enclosure Specialist
Get the guarantee of excellent communication, an on-time start date, and superior quality for your Ponte Verda, Jacksonville, Nocatee, or Amelia Island outdoor enclosure. With over 1,000 five-star reviews, Impact Enclosures has a proven track record for excellent craft and customer service. Contact us today to learn more about our services and our process.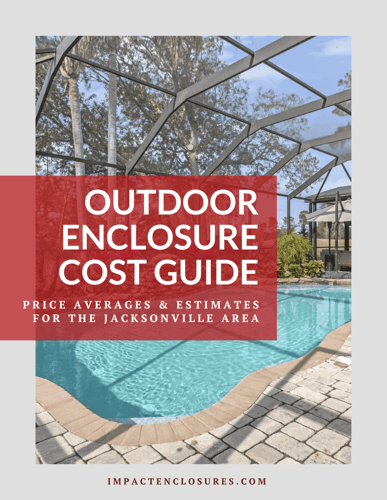 Complete Cost Guide
Get real cost estimates from good to better to best for your outdoor enclosure project in Jacksonville, Florida. Get pricing averages for...
Motorized Pergolas

Motorized Screens

Screen Enclosures

Screen Rooms

Wood Pergolas

Outdoor Kitchens

Tongue & Groove Ceilings

Outdoor Lighting