3 Min Read
Is an Outdoor Kitchen in Florida Really Worth It?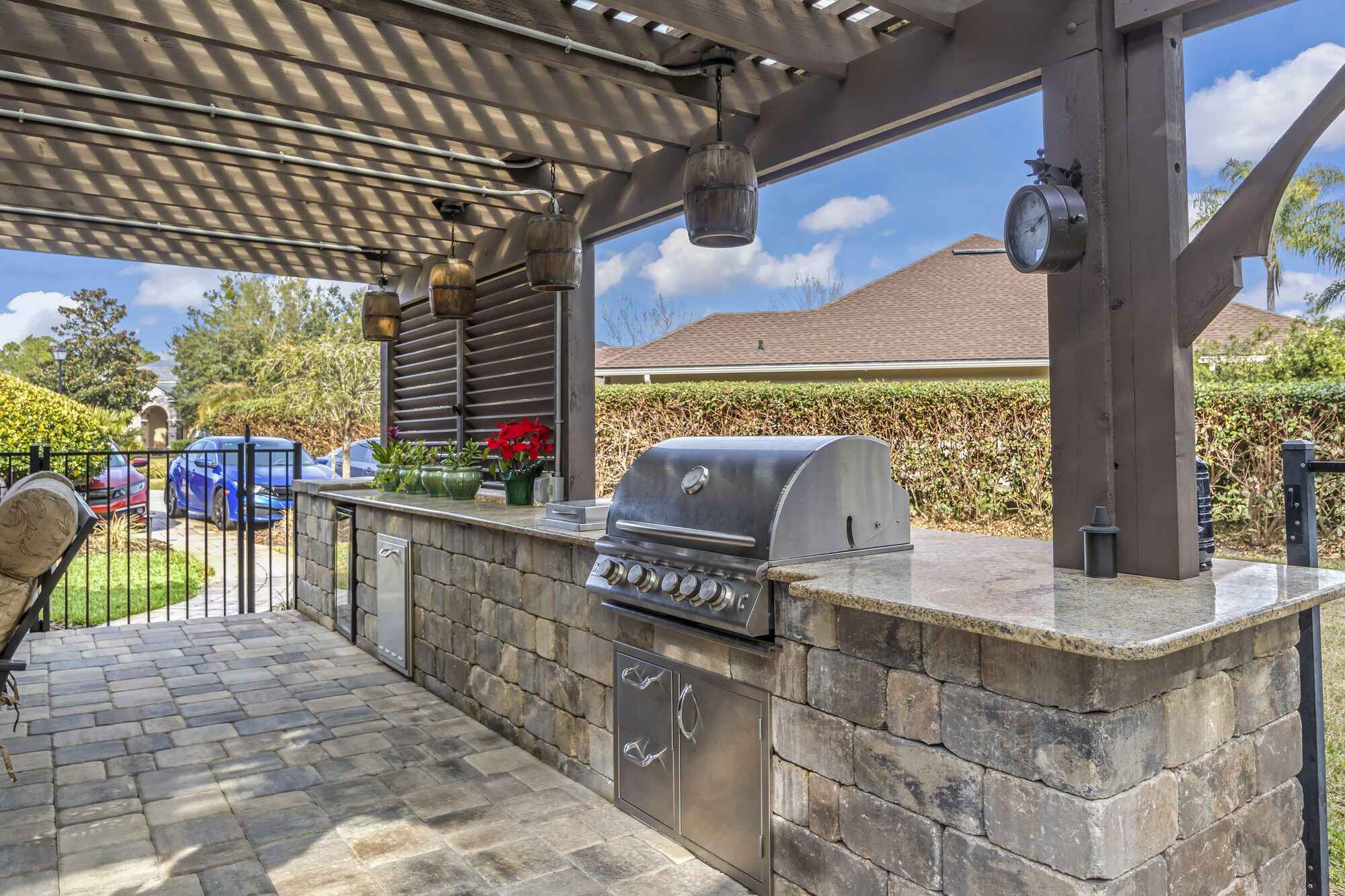 Florida's warm climate and scenic beauty make it an ideal location for outdoor activities. One such activity that's gaining popularity among homeowners is cooking and entertaining outdoors. But is it really worth the investment? Let's delve into the world of outdoor kitchens in Jacksonville, Florida, and explore their benefits, features, and value.
How an Outdoor Kitchen Will Change the Way You Feel About Your Home
An outdoor kitchen is not just a cooking space. It's an experience. Imagine preparing a meal while enjoying Florida's warm evenings, or hosting a barbecue party under the stars. An outdoor kitchen can transform your backyard into a culinary paradise, making every meal a memorable event.
It elevates your outdoor space, turning it into an extension of your home. Every time you step out, you're not just stepping into your backyard; you're stepping into your dream outdoor living space.
Top 4 Benefits of an Outdoor Kitchen
There are plenty of reasons to build your own outdoor kitchen, but here are just a few of them.
1. Extended Living Space
An outdoor kitchen acts as an extension of your home, providing additional space for cooking, dining, and entertainment. This space can be customized to fit your design preferences and functional needs. You can create the space you need to essentially add square footage to your living space to host more friends and family comfortably.
2. Enhanced Entertainment
Whether it's a family gathering, a party with friends, or a quiet dinner for two, an outdoor kitchen sets the perfect ambiance. It becomes the focal point of any gathering, impressing guests and ensuring memorable moments.
3. Increased Home Value
Homes with outdoor kitchens often have a higher resale value. In fact, the ROI for an outdoor kitchen can be as high as 80%. This makes it not just a luxury but a smart investment. Additionally, it can be a unique selling proposition, setting your home apart in the real estate market.
4. Convenience
Having everything you need at arm's length, from an outdoor sink to a refrigerator, makes cooking outdoors a breeze. No more running back and forth to the main kitchen for supplies. A fully stocked outdoor kitchen can make cooking outdoors more enjoyable and less of a chore.

9 Outdoor Kitchen Features You Could Include
Nowadays, the world of designing an outdoor kitchen is your oyster. There are numerous features to include that will make this space completely personalized.
1. Custom Cabinets
Opt for outdoor cabinets that are weatherproof, ensuring longevity. These cabinets are designed to withstand the elements, ensuring your kitchen remains functional and beautiful for years.
2. Countertops
Choose from a variety of outdoor countertops that complement your space. Materials like quartz, slate, or concrete can withstand the Florida heat and provide a durable workspace. They also add a touch of elegance, elevating the overall design.
3. Stainless Steel Cabinets
These offer durability and a sleek look. Stainless steel is resistant to rust and corrosion, making it perfect for the humid Florida climate. It's also easy to clean, ensuring your kitchen always looks its best.
4. Outdoor Sink
Essential for quick clean-ups and food prep. This feature enhances the functionality of your kitchen, making tasks like washing vegetables or cleaning utensils convenient. It also reduces trips inside, making the cooking process smoother.
5. Outdoor Refrigerator Cabinet
Keep your beverages and ingredients cool and within reach. Perfect for those hot summer days when you need a cold drink. It also allows for better meal planning, as you can store ingredients close by.
6. Outdoor Kitchen Bar
Perfect for serving drinks or a casual meal. It adds an entertainment dimension to your outdoor space, making it ideal for parties or family gatherings. Pair it with some stylish bar stools, an ice maker, and plenty of storage for drinkware and you'll have the ideal hangout spot right in your own backyard.
7. Modern Appliances
From a grill and oven to a dishwasher and hibachi grill, equip your kitchen with the latest appliances. Choose appliances that are designed for outdoor use, ensuring longevity and optimal performance. They also offer advanced features, making cooking more efficient.
8. Outdoor Kitchen Storage
Store your utensils, plates, and other essentials conveniently. Organized storage means a more efficient cooking experience. It also helps keep your kitchen tidy, ensuring everything has its place.
9. Fireplace
A covered outdoor kitchen with a fireplace adds warmth during the cooler months and an elevated feel to the space. It's perfect for adding ambiance and a touch of luxury. It also extends the usability of your outdoor kitchen into the cooler months.

The Value an Outdoor Kitchen Can Bring
An outdoor kitchen is more than just a luxury; it's a valuable investment. Here's how it adds value:
1. Intrinsic Value
The joy of cooking in the open air, the convenience of having everything within reach, and the pleasure of hosting outdoor parties are priceless. These experiences enhance your quality of life and create lasting memories.
2. Return on Investment (ROI)
As mentioned earlier, the ROI for an outdoor kitchen can be as high as 80%. This means that if you spend $50,000 on your outdoor kitchen, you could see an increase in home value by $40,000. It's a win-win situation.
3. Appeal to Potential Buyers
If you ever decide to sell your home, an outdoor kitchen can be a significant selling point because they have grown in popularity so much over the last few years. It sets your property apart and can be a deciding factor for many buyers. Homes with outdoor kitchens often attract more potential buyers and can sell faster.
Ready to Bring Your Outdoor Kitchen Dream into Reality?
If you frequently cook and spend time outdoors, an outdoor kitchen in Jacksonville, Florida, is definitely worth the investment. Whether you're looking to enhance your outdoor space, combine it with other outdoor structures like a screen enclosure or pergola, or simply create a small covered outdoor kitchen space, Impact Enclosures is your go-to outdoor additions expert. So, if you're dreaming of that perfect summer kitchen, now is the time to make it a reality by contacting Impact Enclosure to schedule a consultation today!