4 Min Read
How Much Does a Pergola Cost in Jacksonville?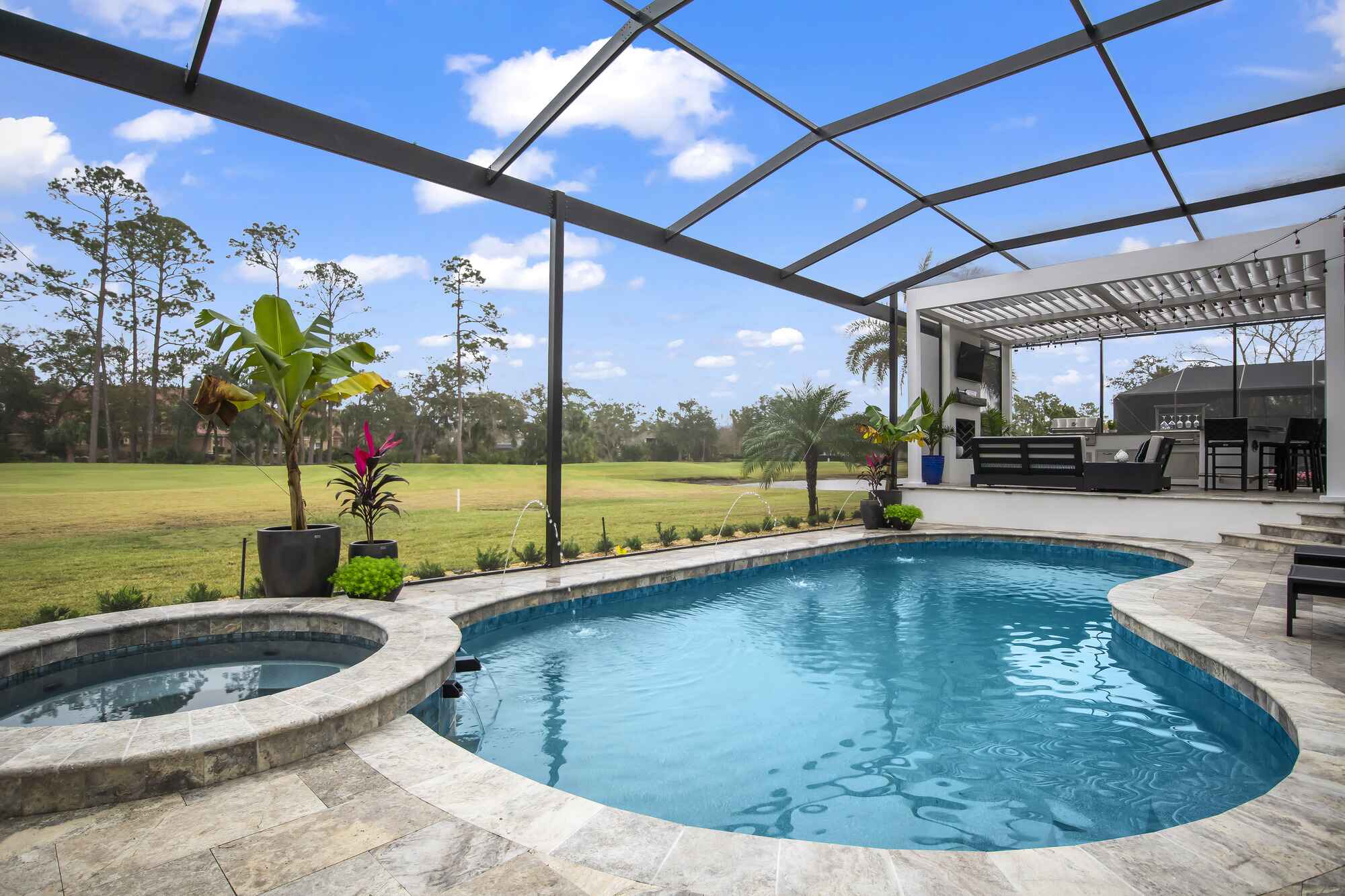 Does it feel like your backyard is missing something special? Maybe your yard is lackluster, your outdoor kitchen isn't protected from the sun and rain, or your pool area doesn't have a spot to take a break from the sun. Our pergolas are built to last and add great style and function to your home. Find out the costs, what each cost level includes, and get a few ideas for your new pergola!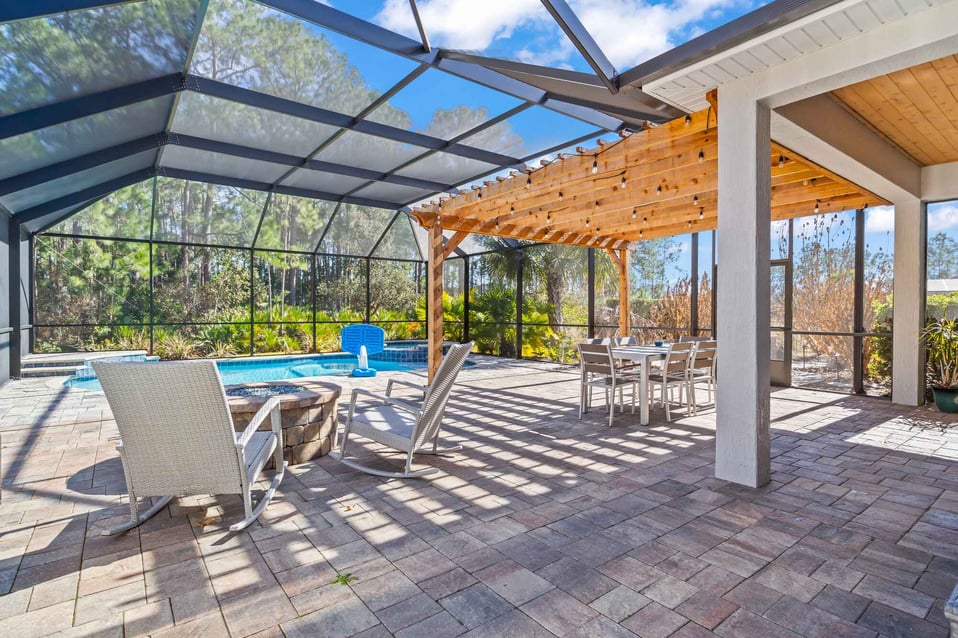 Wood Pergolas
Imagine dining or lounging under a beautifully-built wood pergola that's adorned with bougainvillea vines on a spring day at your Jacksonville, Florida, home. Within only 5-7 days after the start of your project, this relaxing vision can be your reality! Enhance your garden, patio, or yard with the charming elegance of a wood pergola. Our wood pergolas can include professional-grade features, like:
Hidden fasteners

Decorative End Cuts

Spot Footers for Foundation

Header to Post Bracing

Decorative Post Base Coverings
How Much Does a Wood Pergola Cost in Jacksonville, Florida?
We have 3 cost levels to suit any budget!
Good
This wood pergola cost level will cover a cedar pergola that measures 12'x12' feet from post to post with rafters that measure 14'x14' feet. Our pergolas are sturdy and construction begins with spot footers for the foundation. Every post, header, truss, and purlin is firmly held together using stainless steel screws, bracing, and hidden fasteners. The Good level includes the following material dimensions to construct your pergola:
6"x6" posts

2"x8" double headers

2"x6" trusses 1.5' on center

2"x2" purlins 1' on center
We finish the pergola with decorative end cuts and post-base coverings. At this level, you can improve the fashion and function of your Jacksonville home for $13,000.
Better
This level begins with the same overall dimensions. Your cedar pergola at the Better level will also be held together by sturdy and trustworthy stainless steel screws, hidden fasteners, spot footers, and bracing. The difference is in the dimensions of the cedar components that will make up your Florida home's pergola:
6"x6" posts

2"x10" double headers

2"x8" trusses 1.5' on center

2"x2" purlins 6" on center.
The heftier trusses and headers increase the level support to allow for more frequent purlins. This will increase the amount of shade your pergola will provide. At the Better level, expect your pergola to cost $15,000.
Best
As with the Good and Better pergola cost levels, the Best level pergola will measure 12'x12' from post to post, with a 14'x14' overhang. The connections are also the same as the previous categories. The Best level of your cedar pergola will also increase the dimensions of materials as follows:
8"x8" posts

2"x12" double headers

2"x10" trusses 1.5' on center

2"x2" purlins 4" on center.
The thicker posts are able to support even larger headers and trusses. This allows for only 4" between each purlin . The Best pergola level provides the highest level of shade and a more impressively substantial structure at the cost of $18,500.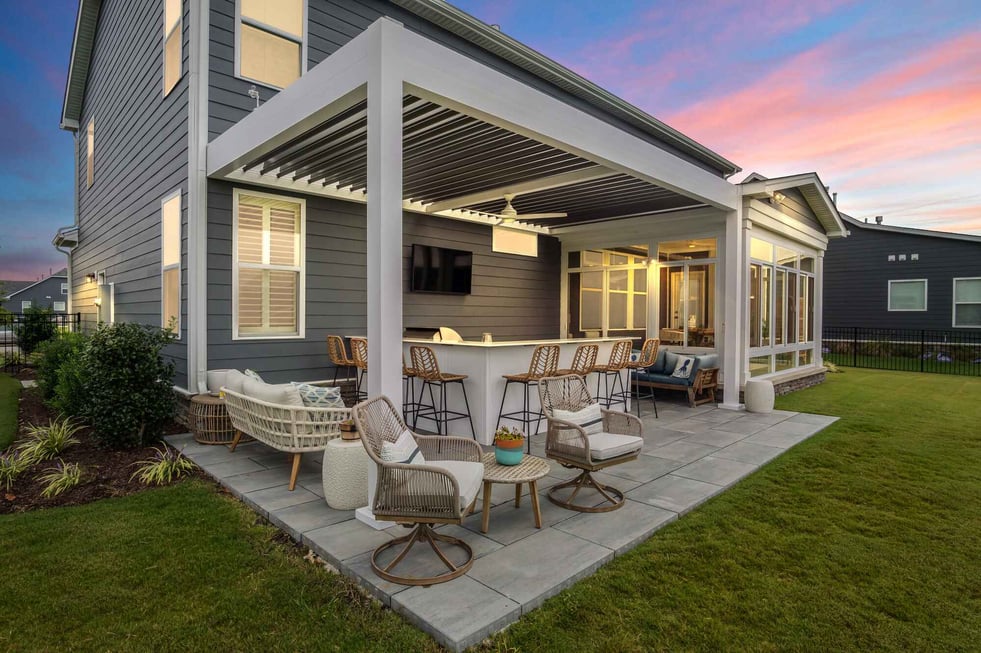 Motorized Louvered Pergolas
Our motorized louvered pergolas are sleek and contemporary in style but will fit beautifully with many home aesthetics for a great overall design! Choose from white or gray bronze to correspond with your home's color palette. Motorized louvered pergolas offer the best of both worlds: the excellent style of a pergola and the benefit of a covered porch. Our motorized pergolas are always built with new aluminum–not recycled–for added strength and to resist corrosion.
The motorized louvers will even automatically sense rain and close to keep you dry! Is the sun shining a little too strong? Close the louvers for added shade. With the addition of electricity to your motorized louvered pergola, you could also enjoy lighting and ceiling fans at certain cost levels–all within 5-7 days of the start of your project! What else can you expect?
Rain & Wind Sensors

Whisper Quiet Motors

Dual Wall Louvers for Insulation

6.5"x 6.5" Heavy Gauge posts with Post bases

No-Gap Louvers

No Visible Screws
How Much Does a Motorized Louvered Pergola Cost in Jacksonville, Florida?
Find the right pergola to fit your budget with our three cost levels:
Good
Your 15'x23' foot motorized louvered pergola will be a sturdy structure meant to last. Our motorized louvers will close automatically when it senses rain, with louvers that are designed to not leak and with the proper drainage to avoid water gathering while it rains. At this level, your cost will be $39,000.
Better
The Better motorized louvered pergola level begins with the same 15'x23' dimensions in either white or gray bronze. Rain sensors, insulated louvers, and proper drainage systems are all included. At the Better level, you can also expect 2 fan beams, 4 can lights, and decorative corbel ends. Enjoy a cool breeze under your pergola during the day and turn on the lights when the sun goes down to keep the hangout going into the night. At the Better level, your motorized louvered pergola will cost $42,000 in Jacksonville, Florida.
Best
Your motorized louvered pergola, at the Best level, will also measure 15'x23', but your color choices are more varied. Choose from white, gray bronze, another specialty color, or even a wood grain finish. Your Best level pergola comes with every feature and well-designed detail as the other levels, including 2 fan beams, 4 light cans, and decorative corbel ends. However, the Best level also includes LED strip lights for better control over your lighting options at night. The Best level motorized louvered pergola will cost $51,000.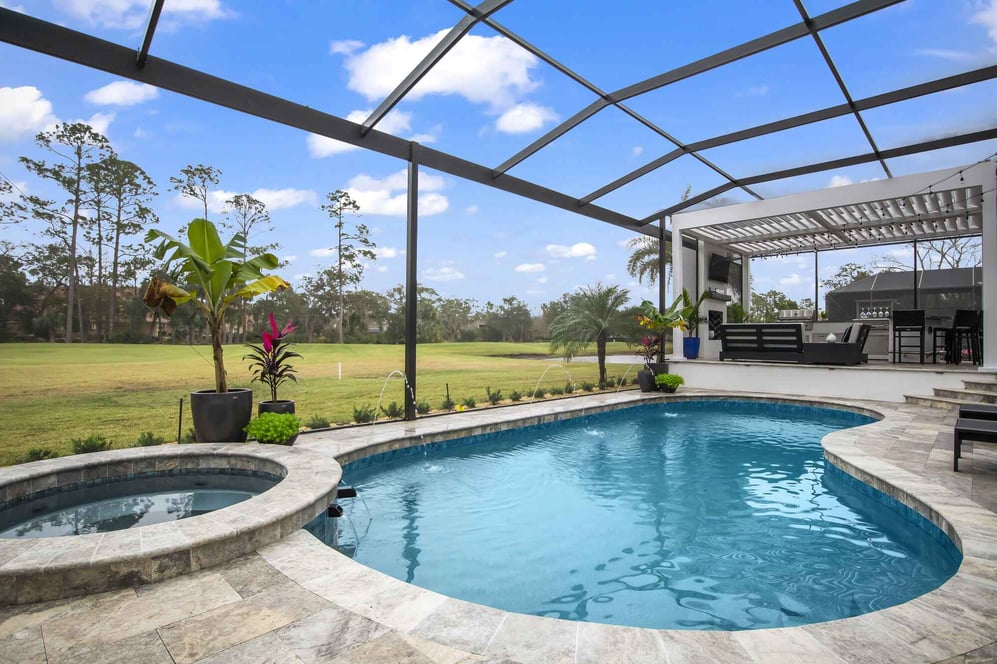 What Are Some Ideas for Your Jacksonville, Florida, Pergola?
A pergola is meant for spending time outdoors and enjoying an environment that's comfortable and stylish. A pergola is also a great addition to many other outdoor features, like a patio, deck, or outdoor kitchen! Your experience and enjoyment while using your outdoor kitchen will be brought to the next level with a motorized louvered pergola, offering shade, protection from rain, and a stylish open-air enclosure.
Adorn your backyard with a wood pergola, add pavers and comfortable furniture, and sit in comfort while the kids or grandchildren play in the yard nearby. If you have a pool, adding a pergola to get a little relief from the sun is great for both style and function.
Interested in also adding a screened enclosure over your entire pool area? Install a pergola inside the enclosure for a complete resort-like feel!
Enjoy Your Florida Home Even More with a Pergola!
At Impact Enclosures, we not only provide the best construction practices so your pergola lasts for years to come, but we also promise you'll have the best experience during your project. That's why we guarantee starting your project on time, proactive communication, and the highest quality product–or your money back! Contact us to learn about our warranties, available financing options, and to schedule a consultation. Let's plan your project in Jacksonville, Florida. You can also download our complete cost guide for more project ideas.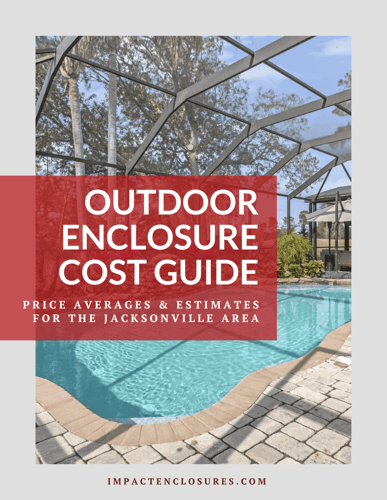 Complete Cost Guide
Get real cost estimates from good to better to best for your outdoor enclosure project in Jacksonville, Florida. Get pricing averages for...
Motorized Pergolas

Motorized Screens

Screen Enclosures

Screen Rooms

Wood Pergolas

Outdoor Kitchens

Tongue & Groove Ceilings

Outdoor Lighting